GLYNDWR WELSH TERRIER CLUB
____________________________________

---
---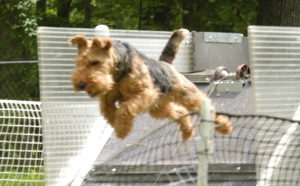 NEXT EVENT:  Saturday, March 7th
---
ST PATRICK & ST DAVID'S POT O'LUCK LUNCHEON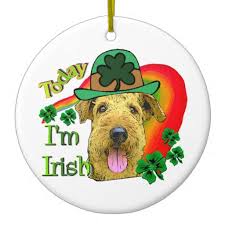 BRING YOUR WELSHIE!  This is a dog-friendly event!
When: Saturday, March 7th from 10:00-2:00
Where: Scout House,  37 Wayside Ln, Scarsdale, NY 10583 – Details of the Scout House
What:  Pot Luck Luncheon – please bring a dish to share.
Bring:  Your Welsh Terrier, water and a crate and a dish to share.
Our first event of the year is a dog-friendly pot-luck luncheon to celebrate Sts. Patrick and David Day!
Please note that this date differs from the events flyer we sent earlier as the Scout House was not available when we wanted it.
 PLEASE RSVP BY EMAIL TO ME AT:  CAMILLE@CAMILLEDESANTIS.COM
Since this is pot luck, we need volunteers for Main Courses, Side Dishes/Salads, and Desserts.  So when you RSVP, please let me know what foods you can bring.
Also, please note that 2020 Membership Renewals have been mailed out already.  If you haven't received yours yet, please email me and let me know.
Thanks all!!
Camille
It's time for the wearin' of the green with our Welsh terriers at this year's GWTC's
St. Patrick and David's Luncheon!
 __________________________________________________________________________
St David is the patron saint of Wales. He plays a very important role in Welsh culture but little is known about his life. St David's Day was recognized officially as the national day for people of Welsh origin in the United States in 2003. The Empire State Building was floodlit in the Welsh national colors, which are red, green and white, on March 1 that year.
Many people with Welsh ancestry or ties celebrate St David's life and the Welsh culture in the United States. Some people may attend a special St David's Day church service while others may cook a nice meal to share with friends or family. Meals may include herbed lamb chops, Welsh pot bread, or Caerphilly Crumble.
Many groups may organize special events or parties that may include carrying the flag of Wales, dressing in traditional costumes, and wearing daffodils or leeks on clothing. The Welsh flag, a red dragon on a white and green background, is displayed prominently and a festive mood prevails.
---
Don't forget to renew your GWTC membership – click here for Renewal Application
---
WHO IS THE GLYNDWR WELSH TERRIER CLUB?
---
The Glyndwr Welsh Terrier Club is a social group that shares fun with our Welsh Terriers. We were formed in 1977 and are made up mostly of pet owners, but we have a number of members who are involved in the show world. The bulk of our members live in Connecticut, New York and New Jersey, but we have others as faraway as Wisconsin and Maine.
We get together several times a year for fun events, including walks in the Spring and Fall, a BBQ, an Earthdog Dig and our main event … an all day Fun Day. Naturally … we bring our Welshies to ALL our events!
We publish a quarterly newsletter for our members … the Glyndwr Welsh Times. It includes articles and pictures on a wide variety of topics, from funny to serious, plus pieces contributed by our members.
Most importantly, we are a resource to our members. Got a problem with your Welsh … have a question about behavior … want to talk about health issues … Glyndwr provides a network of members instantly available to help.
If you belong to Glyndwr … you're never alone out there!
We also use our extensive member network to help Welshies in trouble by helping to find them good homes. In addition to our extensive membership network, we coordinate our efforts with other breed rescue organizations.
Come explore our website and learn who we are and what we do.
---
We are very privileged to have been in existence for 40 years!  We have a long range of history at Glyndwr Welsh Terrier Club!   We had a wonderful celebration of our milestone year.  – See photos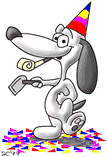 d