GLYNDWR WELSH TERRIER CLUB
____________________________________

---
NEXT EVENT:
DATE: 

SATURDAY, JUNE 8TH –

CANCELED !!
(due to low attendance – but the event is still on!)
STAY TUNED FOR OUR NEXT EVENT – WE ARE TRYING FOR SOMETHING IN JULY
TIME:  11:00 AM
WHAT:   Greenwich Kennel Club 8th Annual All-Breed Show, Obedience Trial, & 13th Annual Rally Trial
LOCATION:  Taylor Farm Park, East Norwalk, CT
(Canfield Avenue & Calf Pasture Beach Boulevard)
Entry fee:   $15 per vehicle, which includes parking and admission to the Event
Meeting spot:   We will meet where the Barn Hunt activity is – see map: GWTC Meeting Location at the June 8 2019 Event
Call Camille if lost: 914-282-2362
What to bring:  Your dog, leash, water for your dog, a lawn chair, snacks for yourself (food is available for purchase)
Further info about this event: Greenwichkc.org/gkc-all-breed-dog-show
MORE INFO:  GWTC – WALK IN THE PARK – NORWALK
---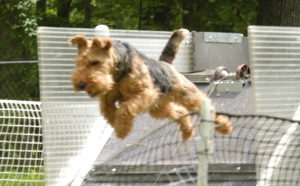 The Glyndwr Welsh Terrier Club is a social group that shares fun with our Welsh Terriers. We were formed in 1977 and are made up mostly of pet owners, but we have a number of members who are involved in the show world. The bulk of our members live in Connecticut, New York and New Jersey, but we have others as faraway as Wisconsin and Maine.
We get together several times a year for fun events, including walks in the Spring and Fall, a BBQ, an Earthdog Dig and our main event … an all day Fun Day. Naturally … we bring our Welshies to ALL our events!
We publish a quarterly newsletter for our members … the Glyndwr Welsh Times. It includes articles and pictures on a wide variety of topics, from funny to serious, plus pieces contributed by our members.
Most importantly, we are a resource to our members. Got a problem with your Welsh … have a question about behavior … want to talk about health issues … Glyndwr provides a network of members instantly available to help.
If you belong to Glyndwr … you're never alone out there!
We also use our extensive member network to help Welshies in trouble by helping to find them good homes. In addition to our extensive membership network, we coordinate our efforts with other breed rescue organizations.
Come explore our website and learn who we are and what we do.
---
GWTC has recently lost one of our founders, Bardi McLennan – read more about this fascinating person!
---
We are very privileged to have been in existence for 40 years!  We have a long range of history at Glyndwr Welsh Terrier Club!   We had a wonderful celebration of our milestone year.  – See photos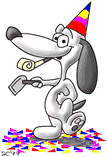 d