ST PATRICK'S WELSH POT LUCK LUNCHEON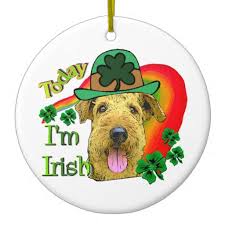 MARCH 17, 2018
Betty Taubert Scarsdale Scout House
Scarsdale, NY
DATE

MARCH 17, 2018

WHERE

Betty Taubert Girl Scout House
37 Wayside Lane
Scarsdale, NY

WHAT

·         Awesome lunch

·         Fun activities for the dog and their people!

COST

·         FREE! – please something to contribute to the Pot O'Luck Luncheon table.

·         GWTC will provide beverages.
What is more fun than spending a day with a group of Welsh Terriers 
and their humans!!
Musical Sits
(Like Musical Chairs with a twist)
You and your Welsh will walk around in a circle to music.

 

When the music 
stops you will have your dog sit, the last dog to sit is out.
W-E-L-S-H
(Like the basketball game horse with a twist)
We will break into 2 teams.

 

A person on team A will have their dog do 
something (sit, down, anything trick they know).

 

Someone on Team B then has 
30 seconds to get their dog to do the same thing. And so on….
GWTC will provide drinks.

 

We ask that you bring something to contribute to our luncheon table.  Camille DeSantis is coordinating the food.

 

Please email her at cdesantis@signava.com
.
Please RSVP as soon as possible so that we have a head count.
Who is St. David?
St David is the patron saint of Wales. He plays a very important role in Welsh culture but little is known about his life. St David's Day was recognized officially as the national day for people of Welsh origin in the United States in 2003. The Empire State Building was floodlit in the Welsh national colors, which are red, green and white, on March 1 that year.
Many people with Welsh ancestry or ties celebrate St David's life and the Welsh culture in the United States. Some people may attend a special St David's Day church service while others may cook a nice meal to share with friends or family. Meals may include herbed lamb chops, Welsh pot bread, or Caerphilly Crumble.
Many groups may organize special events or parties that may include carrying the flag of Wales, dressing in traditional costumes, and wearing daffodils or leeks on clothing. The Welsh flag, a red dragon on a white and green background, is displayed prominently and a festive mood prevails.